How do I get on the KCC Honor Roll?
Honor rolls achievement is based on the the number of credits completed per term and grade point average (GPA). KCC has four different honor rolls:
President's List: Students who completed 10 or more credits with a GPA of 3.75 to 4.0.
Dean's List: Students who completed 10 or more credits with a GPA of 3.5 to 3.74.
Honor Roll (10-plus credits): Students who completed 10 or more credits with a GPA of 3.25 to 3.49.
Honor Roll (6 to 9 credits): Students who completed 6 to 9 credits with a GPA of 3.25 to 4.0.
Honor Roll - Summer 2023
Congratulations to all of the KCC Badgers who achieved inclusion on the honor roll! This is an accomplishment of which you can and should be proud. Your dedicated effort has resulted in academic excellence.
 Presidents List recipients had a chance to take a photo with Dr. Gutierrez, our college President.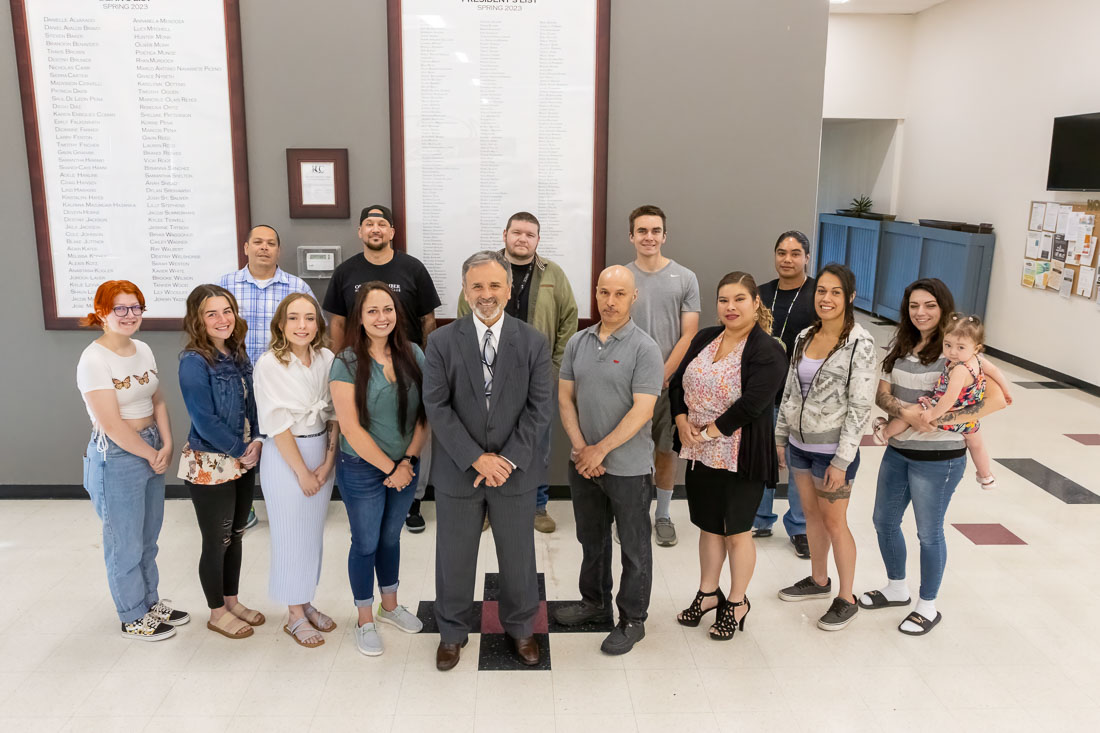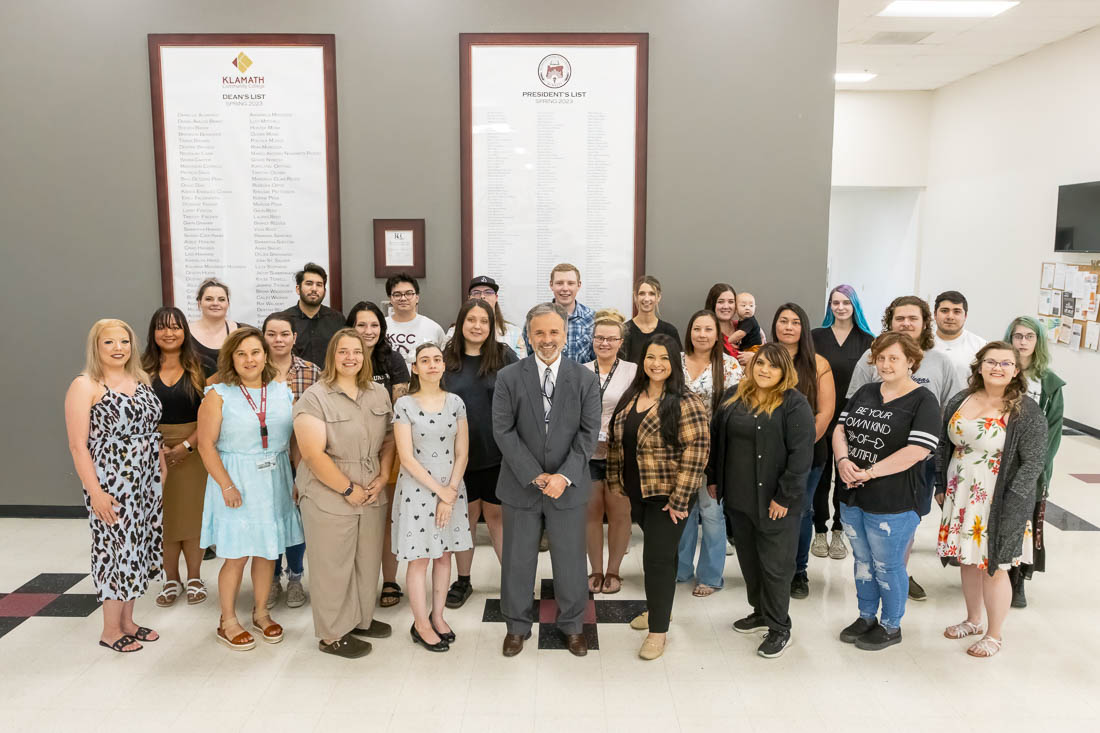 President's List
Taylor Baum, Nathaniel Boren, Chey Bristow, Errin Caine, Jennifer Cool, Alicia Edick, Hannah Elrod, Nathan Elwood, Karen Enriquez Cobian, Alexander Fillmore, Cielo Gonzalez, Gavin Graham, Gina Hamm, Shandi-Caye Hamm, Craig Hansen, Matthew Hartwig, Charles Hill, Mackinley Hudson, Phera Knox, Haily Knupp, Ashley Lamb, Christian McCoy, Paige McEldowney, Michael McGraw, Shreya Menges, Hunter Monk, Oliver Monk, Kristene Morris, Jordan Newman, Marleen Nish, Kelly Olson, Ethan Quinto, Brandi Reeves, Karla Rendon Gomez, Jessalyn Riggins, Rebecca Ruffino, Bibianna Sanchez, Cody Seater, Brant Shaw, Jamie Silva, Brett Steagall, Cierra Syndergaard, Alexandra Torres, Morgan Utley, Alejandro Valadez, Jeffry Vinson, Nikolas Watkins, Holley Weber, Joshua Weil, Toby Williams, Henry Worthing.
Dean's List
Andreana Alvarez, Stormy Arenson, Daniel Avalos Bravo, Nolan Blofsky, Destiny Brunick, Justina Coffman, Diego Garcia, Patric Greenizer, Heidi James, Xander Lewis, Samantha McKinnon, Cameron Meyer, Caroline Newsom, Briana Ramirez-Rial, Miles Roberts, Ray Walbert, Jake Walker, Sondra Whyde, Brooke Wilson, David Wilson.
Honor Roll (10 plus credits)
Samantha Hamawi, Shaun Lopez, Jessica Pemble, Jason Reid, Louise Roberson, Mashayna Terrell, Megan Thomas.
Honor Roll (6-9 credits)
Ashley Alaquinez, Joelle Alger, Norman Anderson, Karime Arechiga-Gallegos, Makayla Atkinson, Sevilla Avila, KelLana Babb, Tyera Bates, Rachel Berlinghoff, Charles Bristow, Shara Brown, Casey Byrne, Sarah Calonge, McKinley Casson, Vivianna Cedillo, Melissa Chandler, Dayanara Chavolla-Villanueva, Weston Cradit, Mary Dewitt, Jesse Dorado, Ashely Doty, Matthew Ebner, Catarina Felsinger, Miguel Figueroa, Elizabeth Flores Dominguez, Kylie Francis Yacuk, Devin Garman, Shaun Garnica, Rebecca Garrett, Ricardo Gomez Cerrillo, Erik Gonzalez, Paola Gonzalez Valverde, Ashley Grabil, Alicia Granados, Kelsey Grossman, Crystal Harding, Jared Hartzell, Kalpana Mazumdar Hazarika, Camarie Hudson, Maria Huizar Muneton, Hannah Iams, Melissa Koehly, Michael Koehly, Erika Koufos-Walker, Angela Lascola-Sorg, Jannette Lewis, Jacob Maas, Dorianne Marchessault, Margaret McCage Meister, Grace McNiven, Heather Meadows, Shievon Meenan, Jose Mendez, Annabela Mendoza, Kyna Miller, Caleb Moran, Amber Mynear, Cadence Nelson, Arya Nosouhian, Valerie O'Neill, Nicholas Ramseier, Jacy Riddle, Jasmine Sade, Amy Sampson, Carolina Sanchez- Reyes, Marsal Sandoval, Kissy Sendrijas, Robert Shaw, Jazzlyn Shequin, Shara Shumway, Eleanor Sjoquist, Nisel Snodgrass, Thomas Spichtig-Thickett, Grace Taylor, Kylee Tidwell, Kevvin Tiefenback, Dylan Tobias, Stephanie Torres, Kelly Utley, Nora Valverde Martínez, Sarah Van Horn, Amber Waggoner, Amanda Warrior, Brooke Weidman, Mason Westfall, Hannah Whitley, Keesha Wilder, Trudy Willhite, Michelle Winters.