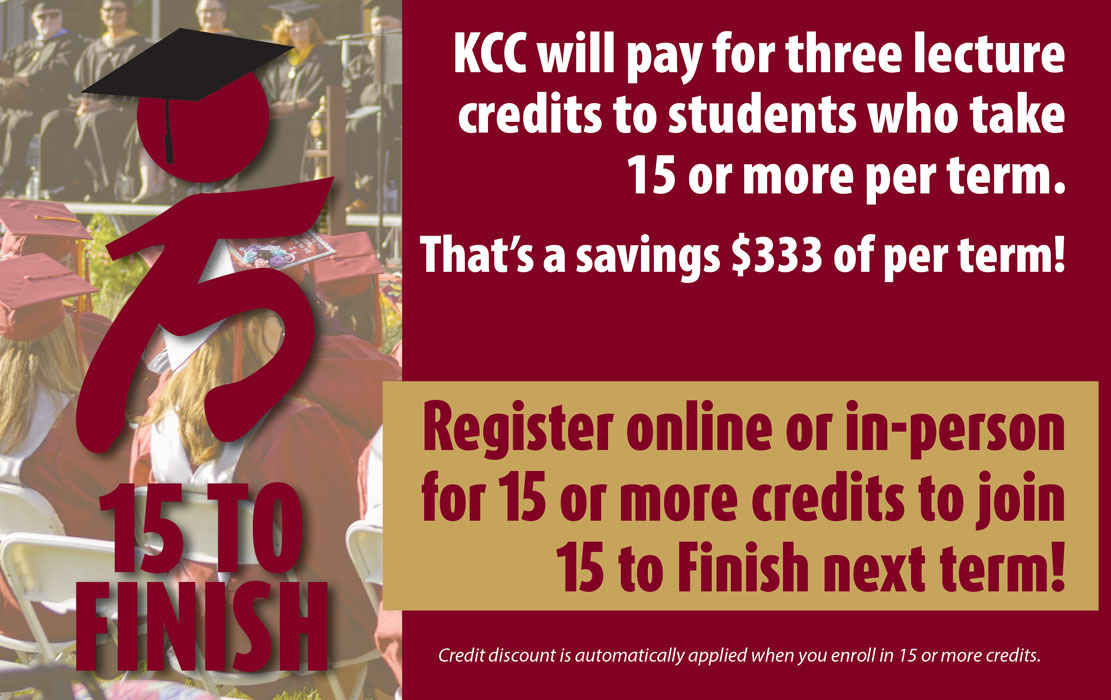 KCC now has one more way to give a big boost to our students' success! 15 to Finish will pay for three lecture credits to students who take 15 credits or more per term. That's $333 per term KCC is willing to contribute toward your education expenses.

But if you take 12 credits aren't you already a full-time student? Why would you want to take 15 credits per term?
Graduate on time:

A typical associate degree requires at least 90 college credits to complete. A student who takes 12 credits a term, fall, winter, and spring, and skips summer term will only have 72 credits after two years in college. A student who takes 15 credits a term, fall, winter, and spring, and skips summer term will have 90 college credits after two years, which puts the student at or near graduation.
Changing your major has less impact on your graduation date:

Many students start college by taking general education courses, which are required for every degree. If a student takes only a course or two focused in a field of interest each term, and he or she decides to switch a major after a few terms, the student may only need to take an additional term or a summer term to stay on schedule for graduation.
Spend less money now, make more money sooner:
One of the largest expenses for college students is living expenses. By taking 15 credits a term, a student will graduate sooner and save money on college expenses.

A student who graduates early by taking 15 credits a term will also enter the workforce sooner and make more money over the course of his or her career.
Don't be afraid:
Taking 15 credits a term may seem a little scary, but our faculty and staff are here to help our students succeed. Our student success advisors will help you determine a course load you can handle. The tutoring center is also free and KCC has trained tutors in nearly all subjects ready to assist you.
How do I take advantage of 15 to Finish?
Whether you enroll through your advisor, a student success representative, or online, if you enroll in 15 or more credits, your three free lecture credits will be processed through the KCC business office.